Click here for tickets to our December 10 Concert: "To One Beyond the Seas" at Indexical, 1050 River Street, #119, Santa Cruz CA.

Our vision is that our music is a safe space for genuine joy in learning and in collaboration, even in radical collaboration as we add poetic embodiment or dance to bring the music forward. Our performances represent and honor the foundational offerings to music contributed by Black composers and songwriters. We bring healing and transcendence to the audience.




May 2023: Musical Soulmates is proud to present two events this Mother's day weekend: on May 13, Homecoming Celebrtion celebrates all the aspects of Musical Soulmates: the Performer's Collective, Harmony Youth Choir, and Suzuki Piano Studio; on May 14, Coming Home features an evening of artistry and radical collaboration.



April 2023: Musical Soulmates Performer's Collective Presents "Let the Caged Bird Sing", in honor of survivors, at the Walnut Avenue Women's Center, Sunday, April 23, 5:00-6:30. Light refreshments provided. Come and hear our collective of 15 local singers and band, presenting songs of healing, resilience and empowerment by such writers as Erykah Badu, India.Arie, and many many more.




In addition: I am looking for Soulmates Angels to come forward and to donate $150. They will have their name listed on the next program. These "Angels" will be ensuring that while ticket prices are now 'pay as you can', in an effort to include as many new concertgoers as possible, that the Soulmates series will continue to be able to pay the artists that give this stand alone concert series its wings. The Musical Soulmates series is rich in representation of composers, performers and artists who are Black, Indigenous and People of Color from Santa Cruz and surrounding areas. Kate has an authentic relationship with each of the Soulmates artists. In raising funds and awareness for Music in May, Harmony Youth Choir, and Santa Cruz County Black Health Matters Initiative, she is strengthening community ties and the welfare of the BIPOC community, and is expanding the perception of Calvary Episcopal Church, as a public venue, as a space where BIPOC people are present and comfortable.

Tammy Lynn Hall and Leberta Lorál have recently collaborated on the stages of Grace Cathedral, the San Francisco Exploratorium, a and the mainstage at Monterey Jazz Festival and the African American Composer's Alliance. Don't miss this unprecedented chance to hear them in the intimate setting of Calvary Epsicopal Church, Santa Cruz .Ms.Hall and Ms. Lorál will be presenting Ellington and settings by Ms. Hall herself. Ms. Saphir Alm and Ms. Lorál will be presenting the entire "Passion"Song Cycle- a prismatic and gorgeous representation of our human passion composed by and set to words by Richard Thompson.

From our October 23rd concert, "Yearning":

November 2022: I am so excited to share information about my upcoming Musical Soulmates Concert on Sunday, November 20th at 532 Center Street Santa Cruz, benefitting Music in May, Harmony Youth Choir, and Santa Cruz County Black Health Matters Initiative. 'Passion' features Diva Leberta Lorál supported by Kate Saphir Alm, piano AND by the illustrious Tammy Lynn Hall-Grammy TM awarded, San Francisco/Monterey based and long time contributor to Santa Cruz music, piano.

Tickets are available in advance through Eventbrite (search Musical Soulmates) and at the door: cash/check/Venmo/credit cards all accepted. Suggested donation: $35.00 musicalsoulmatespassion.eventbrite.com



September 2022: Musical Soulmates continues presenting gorgeously intimate musical evenings, richly representing BIPOC composers and performers, and celebrating the collaborative process. In 2022-2023 we raise funds and awareness for Santa Cruz County Black Health Matters Initiative, for Music in May, and for Harmony Youth Choir- founded by Kate Saphir Alm in collaboration with Music in May founder Rebecca Jackson-Picht, serving and served by majority BIPOC.

It is a delight to be starting off our 2022-2023 season with another evening of Piano Quintets. This intimate evening includes the complete and illustrious Brahms Piano Quintet, a masterpiece borne not only of Brahms' musical genius and turbulent emotions but through his collaborative journey with his own Musical Soulmates: Joseph Joachim and Clara Schumann. The evening includes selections from Ives and Grenados, which also evoke a deep yearning- perhaps personal, spiritual, or some of both. In a radical collaboration, Sarah Cruse joins us on the Ives, bringing Ives' 20th century avant-guarde sensibility into this century, overlaying the music with singing and spoken word. We present the other-wordly Allegretto quasi andantino from the Grenados Piano Quintet and reprise our favorite movement of Dvorak, from last October, the Scherzo, with Bhavananda Lodkey again gracing the music with poetic embodiment of a Rumi poem. We will continue the season with "Passion" on November 20, featuring Diva Leberta Lorál, supported by Kate Saphir Alm and none other than Tammy Lynn Hall, the Bay Area's renown and consummate Jazz pianist, and with "Delight", a Trio and Duets concert including the joyous Piano Trio in F Major of Saint Saëns and the Suite for Violin and Piano by William Grant Still, and more, on May 14, Mother's Day.
This year Kate's Musical Soulmates series raised $1,000 for both Music in May and for Juneteenth Santa Cruz. We also supported Harmony Youth Choir. Thank you for your support! Here is a clip form last year's program, Joy:
July 16, 2022: We will announce the beneficiaries of the 2022-20223 concerts here on September 1st. Our concerts continue to be rich in representation of Black composers and BIPOC performers. Kate's Musical Soulmates series has raised thousands of dollars for Music in May, ($1,000 per year), for Juneteenth Santa Cruz, (2022) for NAACP, Santa Cruz, (2021- raised $1,500), for Hospice Santa Cruz (2020), and for Shakes-to Go (2019). Musical Soulmates series and Suzuki Piano Studio is also officially in partnership - through Harmony Youth Choir serving and served by BIPOC.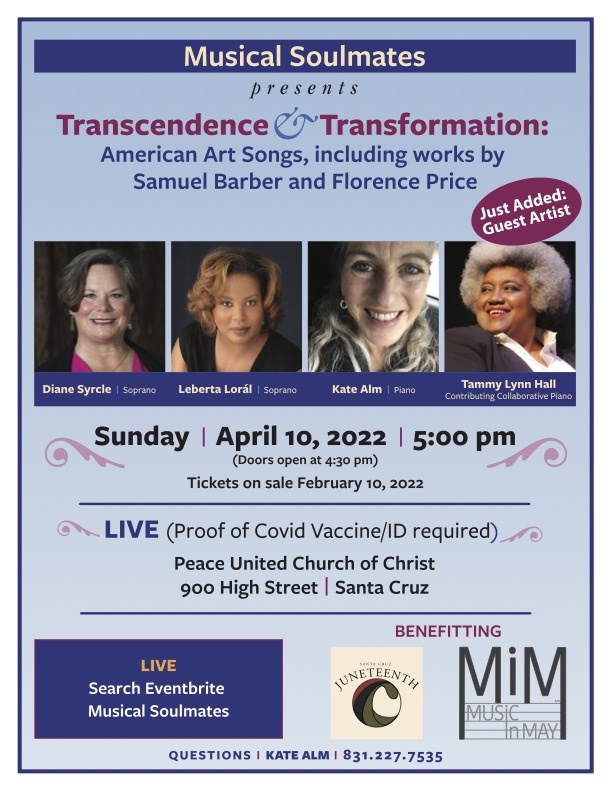 September 19, 2021: I am absolutely thrilled to be raising awareness and funds for Juneteenth, Santa Cruz, and for Music in May, and to be uniting them as well- in spirit, not officially- next Spring as I collaborate with my Juneteenth Collective to mentor and educate underserved youth in our Harmony Choir for a concert event that will be an outreach of Music in May.
I am also just beyond honored that both of the concerts are Black and BIPOC positive events: on November 21, half of performers represent BIPOC. In these times, it is a joy to note such organic relationships and to both intentionally create and to normalize such expansiveness. On April 10th, Diva Leberta Lorál richly delivers works of Black, Female, and Black Female composers.
Personally, I am delighted to be continuing on my lifelong musical journey with the works of the featured composers and with my Musical Soulmates, with personal excellence at the fore while proudly AND humbly serving Music in May and Juneteenth, Santa Cruz.
March 2021: Thank you for your profoundly generous support of the Musical Soulmates concert series.
From the proceeds of our our concerts which ran last August (our tiny stream), through November 7 and December 12 -which was then postponed and combined with our February 27 concert- Musical Soulmates reached and exceeded, by 50%, our fundraising goal: I had the honor of writing and sending a check of $1,500 EACH to Music in May and to NAACP Santa Cruz, and also paid all the performers and contributors. Thank you! I hope you enjoyed, continue to enjoy, or will enjoy our two concerts.(The URLs you purchased are still watchable, and may be available for purchase at future Soulmates events).
February 8, 2020: Evening of Poetry and Song benefiting Hospice Santa Cruz featuring Santa Cruz Poet Laureate Danusha Lameris and Divas Dianne Syrcle and Solmaaz Adeli collaborating with Kate - Doors Open 7 PM (West Side Location) (Raised $1,000 for Hospice Santa Cruz)
November 23, 2019: Music in May Benefit Chamber Concert - Doors Open 7 PM (West Side Location) (Raised $1,000 for MiM!)
May 4, 2019: Kate Collaborating in Concert for 'Music in May' Evening for adults and teens: (raised $1,000 for MiM!) Featuring Peter Jandula-Hudson, viola, and Shannon Delaney D'Antonio, violin, collaborating with Kate Alm, piano, with selections from Schubert, Franck, Saint-Saens and others
Black Lives Matter.
My unending thanks to Juneteenth Santa Cruz (Surething Productions) for trusting me in my vision to skillfully support BIPOC singers in celebrating Juneteenth, and to my community for stepping up. This project was so much more than any one of us, not to mention the awesome, phenomenal writers we represented: Prince, Bob Marley, Lauryn Hill, Nina Simone.
So much more to come from this collective. Thank you Kayla, August, Jen, Lyrical I, Lisa, and Dave. Watch the video below for some of my favorite moments, or click here to watch the full set of 6 songs. To learn about the opportunity to sign your age 6 - 16 youth up to work with these fabulous musicians in the newly founded Harmony Youth Choir, click here.
I express here my eternal gratitude and debt to the Santa Cruz, African-American, church-going Santa Cruz community that has been an integral part of my life for 25 years or more. Thank you for your acceptance and your embrace. Together we have shared so many beautiful moments! Witness this:
When I sought out Suzuki training 15 years ago, after already having taught piano for 10 years at that time, I noticed how much of the Suzuki training paralleled my immersion in Gospel music: the learning by ear, on learning cumulatively, the focus on singing, on tone, on creating together: in mixed generations, in community, in an atmosphere of love, support and joy,and in an atmosphere in which music is taught through music. My parents shared their love of music with me and modeled it in my childhood home, And YOU– the Black church community in Santa Cruz– by allowing me to learn from and for you, have been the bridge for me; you have allowed me to be my true musical self and to authentically pass on the gifts that have been given to me. There would not be a Kate Alm Suzuki Piano Studio without you.